"Eurofire" - "Strongest in Lithuania 2013"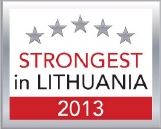 "Stipriausi Lietuvoje 2013" ("Strongest in Lithuania 2013") - this certificate approves, that the company is reliable and always accomplishes their financial responsibilities on time. Also this certificate grants a big probability that the company will carry out like this in the future.
Business market situation and practice in foreign countries. During the recession companies trust in business partners was severely reduced, because of incurred losses. In recent times expectations of business got worse again and because of these two things companies started carefully assess their present and potential partners, goods and services suppliers. This certificate can reduce these doubts about certificated company. Holder of this certificate can prove its reliability to present and future partners, ensure that company is financially credible, which means financial responsibilities will be carry fully and on time.
This kind of certificate has caught attention of business and is used in practice long time ago. For example in Finland, certificate that proves reliability and ability to carry out company's financial responsibilities, have 7 thousand, which means more than one tenth of all active companies.
How the strongest are decided? The most important criteria for this certificate – high solvency ratio, which shows the expected low statistical probability for not fulfilling its obligations for 90 and more days, during next 12 months. For a company this certificate is handed, if its expected probability of paying late does not exceed 17%.
Back